Thanks everyone for using our new shopping system in this new world. We've seen some of you pull-in, see the sign and turn right around to go home and make an appointment. But...
If the parking lot is empty and the door is open, please stop and ask if we have room for another shopper. If we do we will welcome you into the yard; if we are only minutes away from a full reservation hour, we'll ask you to make that appointment and come back another time. But it never hurts to ask!
Sign ups are open, click below to begin.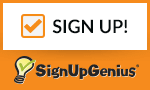 And don't forget on-site pick up! Yeah that's right, if you know what you need to get started this season from our world of flowers and veggie plants... write up a list and email it to:
SmithFarmNH@gmail.com
We'll reply to your email with your total due by check, and tell you during which morning pick-up (Tue, Thu, Sat 9a-10a) your order will be ready at.
Thanks again for supporting us in these strange days.